SAWCI Writer Events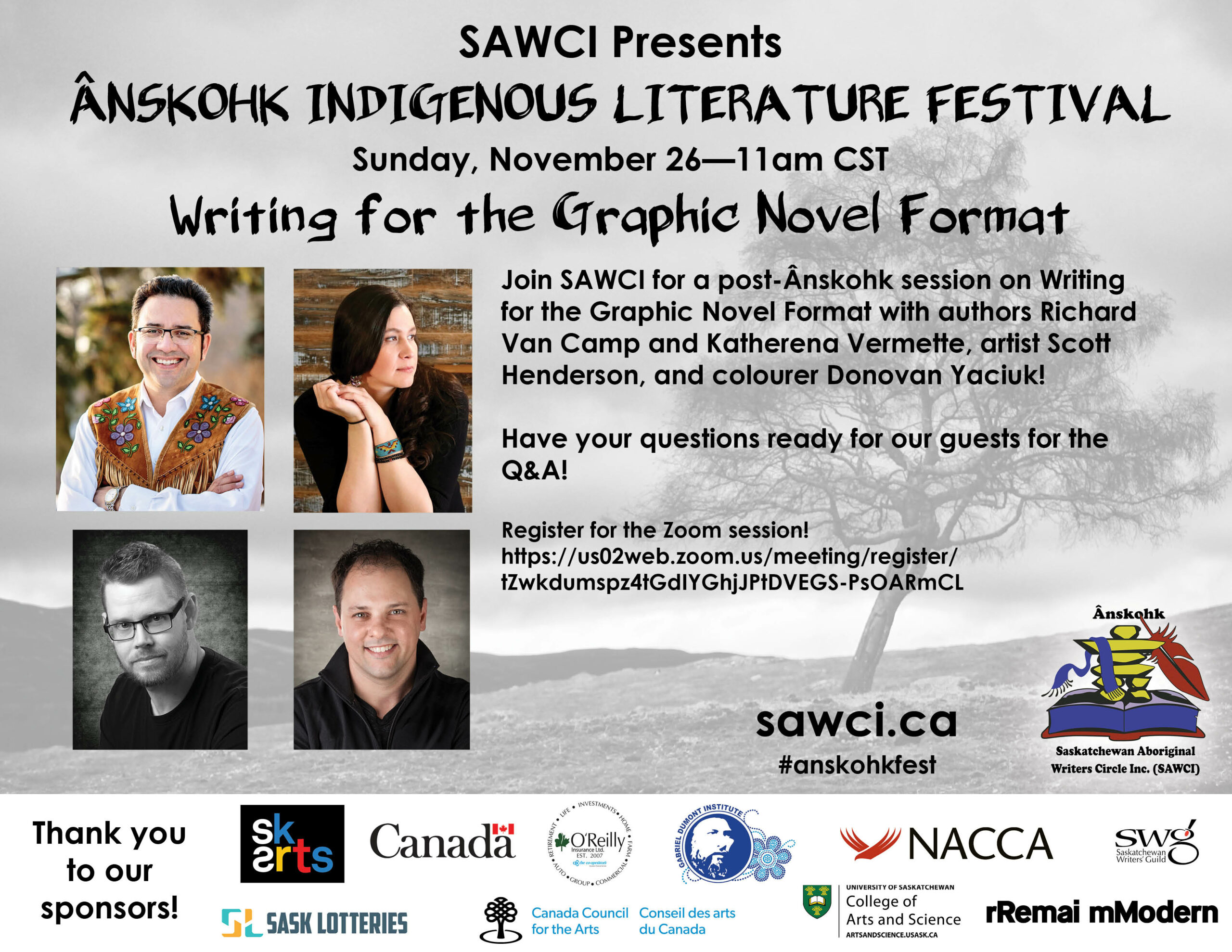 Join us on Sunday, November 26th at 11am (SK/CST) for a session on writing for the Graphic Novel format with authors Richard Van Camp and Katherena Vermette, as well as artist Scott Henderson and colourer Donovan Yaciuk!
Highwater Press has also donated a few graphic novels as door prizes for attending!
Register for this Zoom session here: https://us02web.zoom.us/meeting/register/tZwkdumspz4tGdIYGhjJPtDVEGS-PsOARmCL
Richard Van Camp is a proud Tłı̨chǫ Dene from Fort Smith, NWT. He is the author of 27 books in 27 years. He is a Dogrib Tłı̨chǫ writer of the Dene nation from Fort Smith, Northwest Territories. He is best known for his 1996 novel The Lesser Blessed, which was adapted into a film by director Anita Doron in 2012. In the past several years, Richard has been the Storyteller in Residence for Calgary Public Library and the Writer in Residence at the Metro Federation of Edmonton Libraries. He has also been the Writer in Residence at the University of Alberta, Yellowhead Tribal College and MacEwan University. He is also a Mentor for the Audible Indigenous Writers' Circle.
Katherena Vermette (she/her/hers) is a Red River Métis (Michif) writer from Treaty 1 territory, the heart of the Métis Nation, Winnipeg, Manitoba, Canada. Born in Winnipeg, Manitoba, her Michif roots on her paternal side run deep in St. Boniface, St. Norbert and beyond. Her maternal side is Mennonite from the Altona and Rosenfeld area (Treaty 1). In 2013, her first book, North End Love Songs (Muses' Company) won the Governor General's Literary Award for Poetry. Since then, her work has garnered awards and critical accolades across genres. Her novels The Break (House of Anansi) and The Strangers (Hamish Hamilton) were both national best sellers and won multiple literary awards. Her third novel, The Circle (Hamish Hamilton), and a new and revised omnibus edition of her graphic novel series, A Girl Called Echo (Highwater) were released in Fall 2023.
Scott B. Henderson (he/him) is a freelance illustrator, whose reputation of cultural sensitivity and an openness to listen and learn has garnered a large body of work in collaboration with Indigenous, and LGBTQIA+ communities. His work spans several critically acclaimed graphic novels, including The Reckoner Rises (Indigenous superheroes), A Girl Called Echo (Métis history), A Blanket of Butterflies (2016 Eisner Nomination), and most recently a story featuring D-Man and four new transgender superheroes in Marvel Voices: Pride #1 (2022). Scott is a member of the LGBTQ community, and resides in Winnipeg with his partner.
Since 1998, Donovan Yaciuk (he/him/his) has coloured books published by Marvel, DC, Dark Horse comics, and HighWater Press including the A Girl Called Echo and The Reckoner Rises series, as well as select stories in This Place: 150 Years Retold. Donovan holds a Bachelor of Fine Arts (Honours) from the University of Manitoba and began his career as a part of the legendary Digital Chameleon colouring studio. He lives in Winnipeg, Manitoba, Canada, with his wife and two daughters.
---
Past Events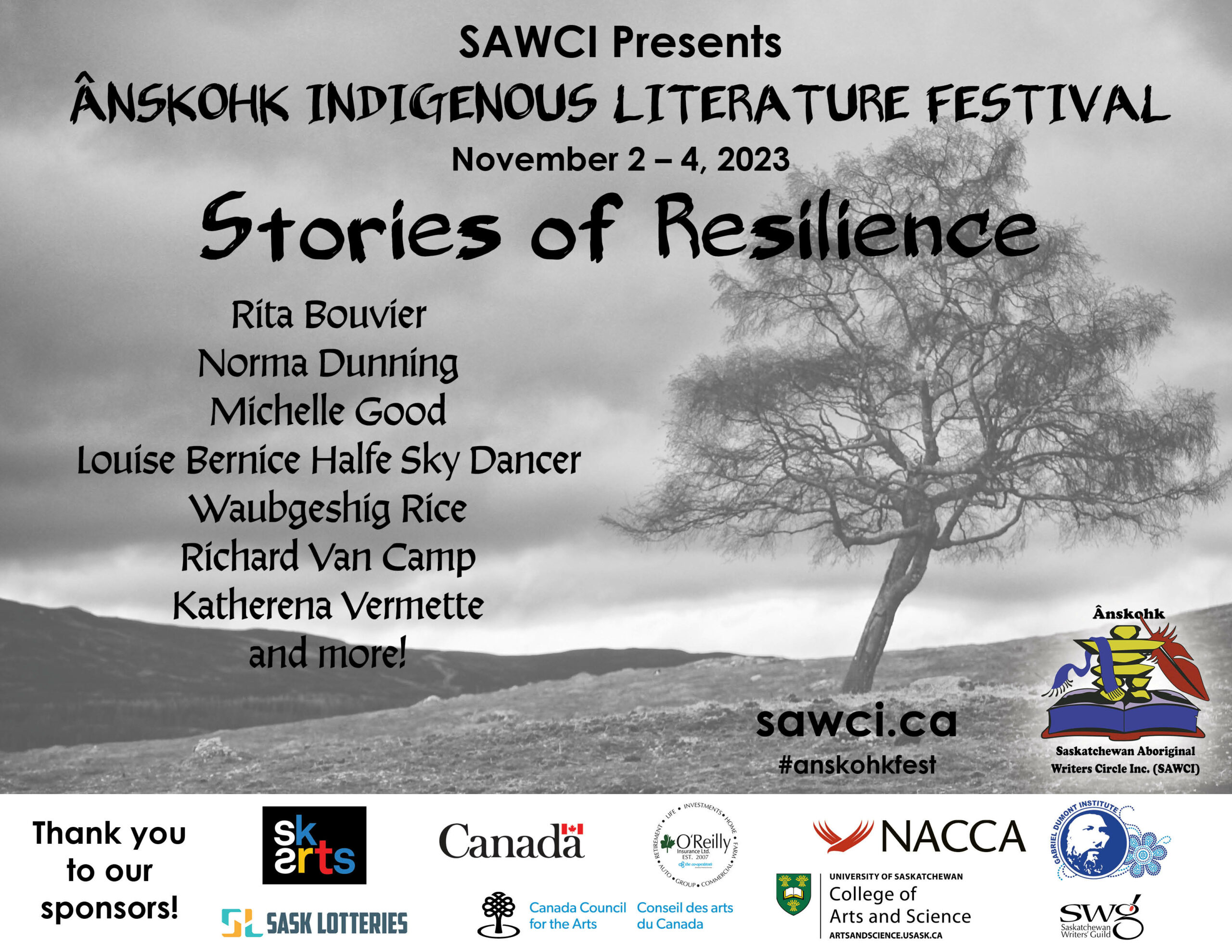 Mark your calendars! The Anskohk Indigenous Literature Festival is being held in Saskatoon from November 2-4th, 2023!
Most events will be available to watch virtually.
The SAWCI AGM will be held on Friday, November 3rd at 5-6pm in the Lime Room at the Alt Hotel. Everyone is welcome!
———————————————————————————————————-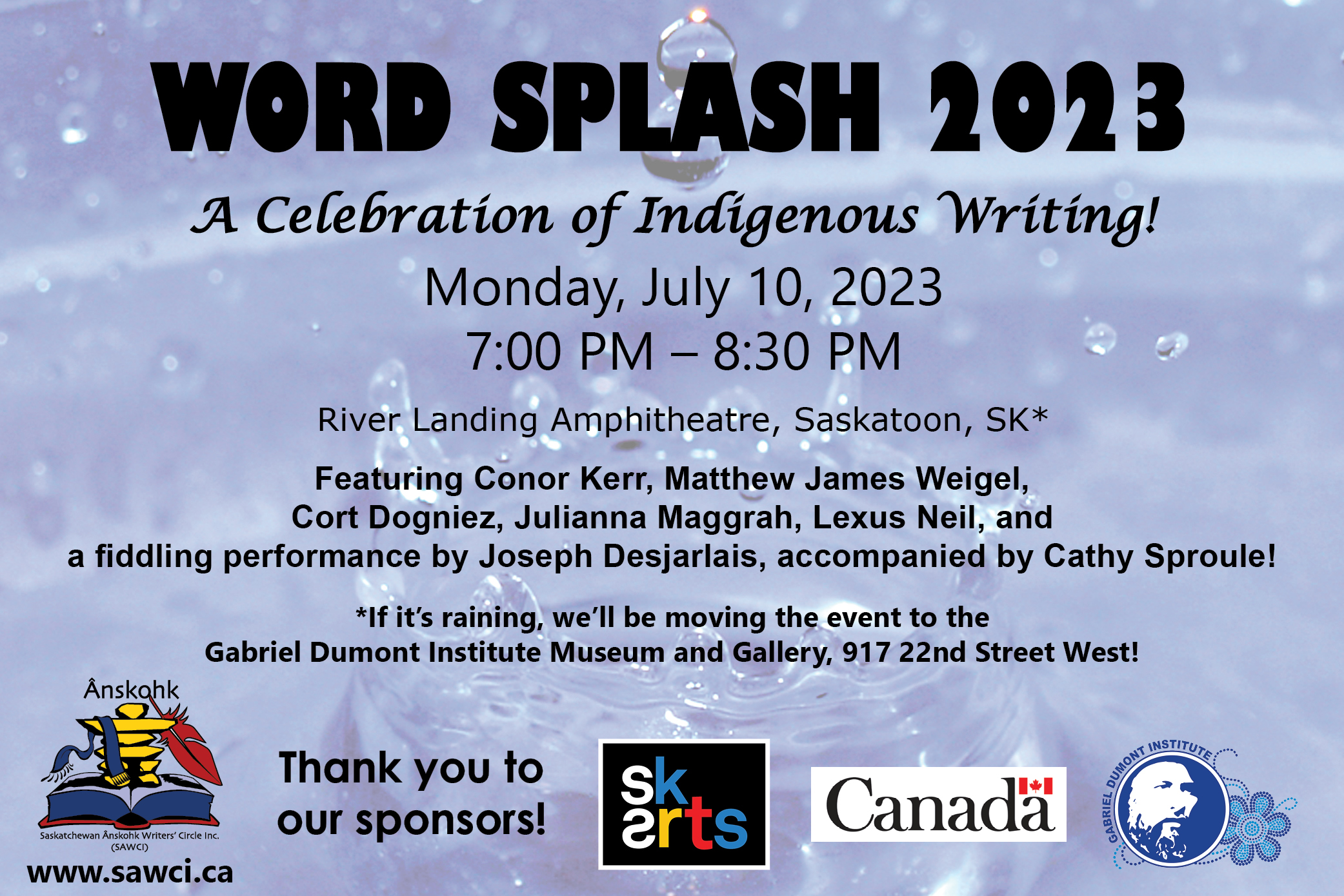 Join us for our annual celebration of Indigenous writing at Word Splash 2023 on Monday, July 10th, 2023 from 7-8:30pm at the River Landing Amphitheatre in Saskatoon!!!
Enjoy readings from Conor Kerr, Matthew James Weigel, Cort Dogniez, Julianna Maggrah, and Lexus Neil, along with a field performance by Joseph Desjarlais, accompanied by Cathy Sproule!
We will be livestreaming the event as well if you can't make it to Saskatoon in person. Register for the livestream here:
https://us02web.zoom.us/meeting/register/tZUlcOyqqDMrHNQYNqxhix7o2jdfH1rxQrPy
———————————————————————————————————-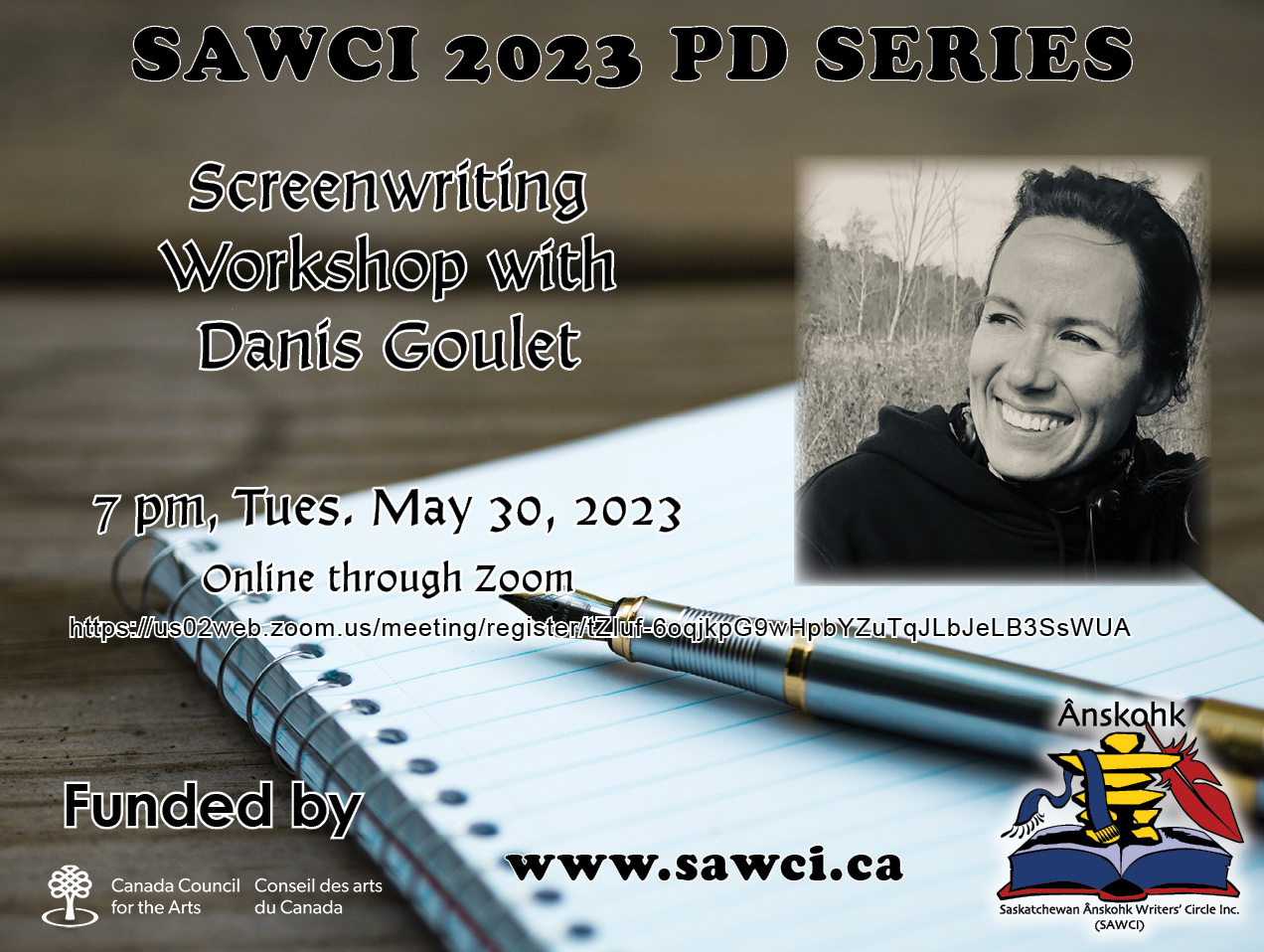 SAWCI's 2023 PD Series is proud to present a Screenwriting Workshop with Danis Goulet! The workshop will be held virtually through Zoom at 7pm (SK Time), Tuesday May 30th. Click the link to register!
https://us02web.zoom.us/meeting/register/tZIuf-6oqjkpG9wHpbYZuTqJLbJeLB3SsWUA
Danis Goulet is an award-winning writer and director. Her films have screened at festivals around the world including Sundance, the Berlin International Film Festival, MoMA and the Toronto International Film Festival (TIFF). She is a former programmer for TIFF and a former director of the imagineNATIVE Film + Media Arts Festival. In 2018, she joined the Academy of Motion Picture Arts and Sciences and in 2021, she joined the TIFF Board.
Her debut feature NIGHT RAIDERS premiered at the 2021 Berlin International Film Festival. It was also selected as a Gala Presentation at the 2021 TIFF where Danis was recognized with a TIFF Tribute Award. In 2021, the film was nominated for eleven Canadian Screen Awards, winning five including best screenplay. In 2022, Danis directed an episode for the ABC show ALASKA DAILY starring Hilary Swank and has also directed three episodes of the acclaimed FX series RESERVATION DOGS. She is Cree/Metis, originally from La Ronge, Saskatchewan.
———————————————————————————————————-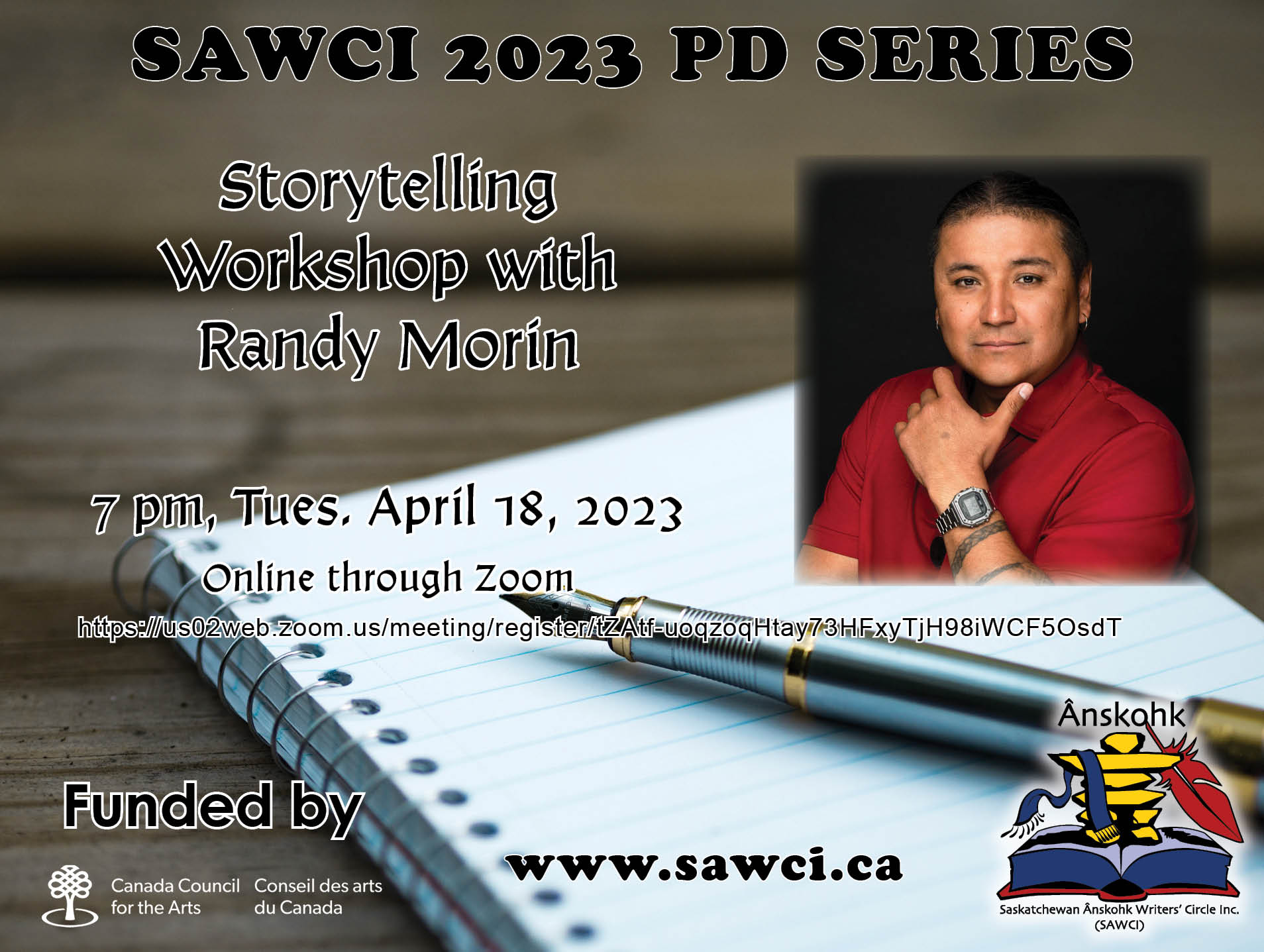 Our SAWCI 2023 PD Series continues on Tuesday, April 18th, 2023 with a Storytelling Workshop with Randy Morin, online through Zoom!
Register today! https://us02web.zoom.us/meeting/register/tZAtf-uoqzoqHtay73HFxyTjH98iWCF5OsdT
Randy will be discussing how to turn oral storytelling into writing, as well as incorporating Indigenous languages into your work!
Randy Morin is from the Big River First Nation, located on Treaty 6 territory in central Saskatchewan. Randy's western education consists of a Bachelor of Arts Degree in Indigenous Studies from University of Regina, a Bachelor of Education degree from the University of Saskatchewan, and a Master's Degree from the University of Victoria in Indigenous Language Revitalization. His Cree education systems consists of practicing and living a lifetime of traditional Plains Cree teachings and traditions. Randy shares this knowledge and teachings at the University of Saskatchewan where he currently works as an Assistant Professor with the Department of Indigenous Studies at the College of Arts and Science.
Randy is also an author of three Cree Children's books with more books to be published in the future. Randy continues to work in many capacities with many different communities and organizations throughout Canada working in the field of language revitalization. He has worked on many language revitalization projects including creating Apps, and co-writing a survival
language phase booklet. He has also working on Cree animation projects with APTN and Blue Hills Productions over the years working with the popular Wapos Bay series and The Guardians series. . He is now working on the newest children's animation series called Chums.
———————————————————————————————————-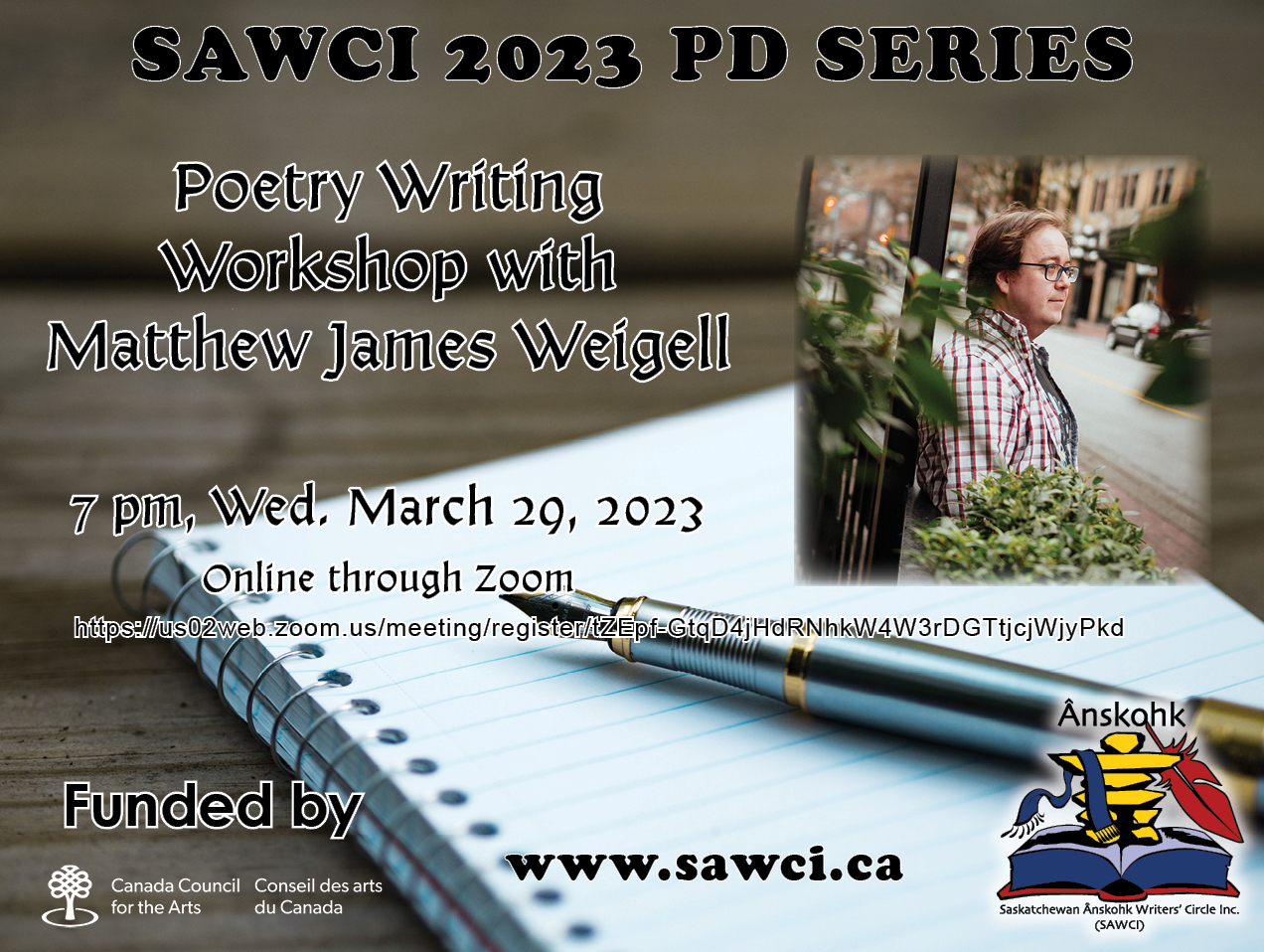 The next SAWCI 2023 PD session will be a Zoom Poetry Workshop with Matthew James Weigel at 7pm (SK Time) on Wednesday, March 29!
Register via this Zoom link: https://us02web.zoom.us/meeting/register/tZEpf-GtqD4jHdRNhkW4W3rDGTtjcjWjyPkd
Matthew James Weigel is a Dene and Métis poet and artist born and raised in Edmonton. Currently pursuing a PhD in English at the University of Alberta, he holds a Bachelor of Science in Biological Sciences. He is the designer for Moon Jelly House press and his words and art have been published by people like Arc Poetry Magazine, Book*Hug, The Polyglot, and The Mamawi Project. Matthew is a Writers' Trust Dayne Ogilvie Prize finalist, National Magazine Award finalist, Nelson Ball Prize finalist, Cécile E. Mactaggart award winner, and winner of both the 2020 Vallum Chapbook Award and 2021 bpNichol Chapbook Award for his chapbook "It Was Treaty / It Was Me". His debut full-length collection "Whitemud Walking" received the Alcuin Society Award for book design, and is available now from Coach House Books.
---
———————————————————————————————————-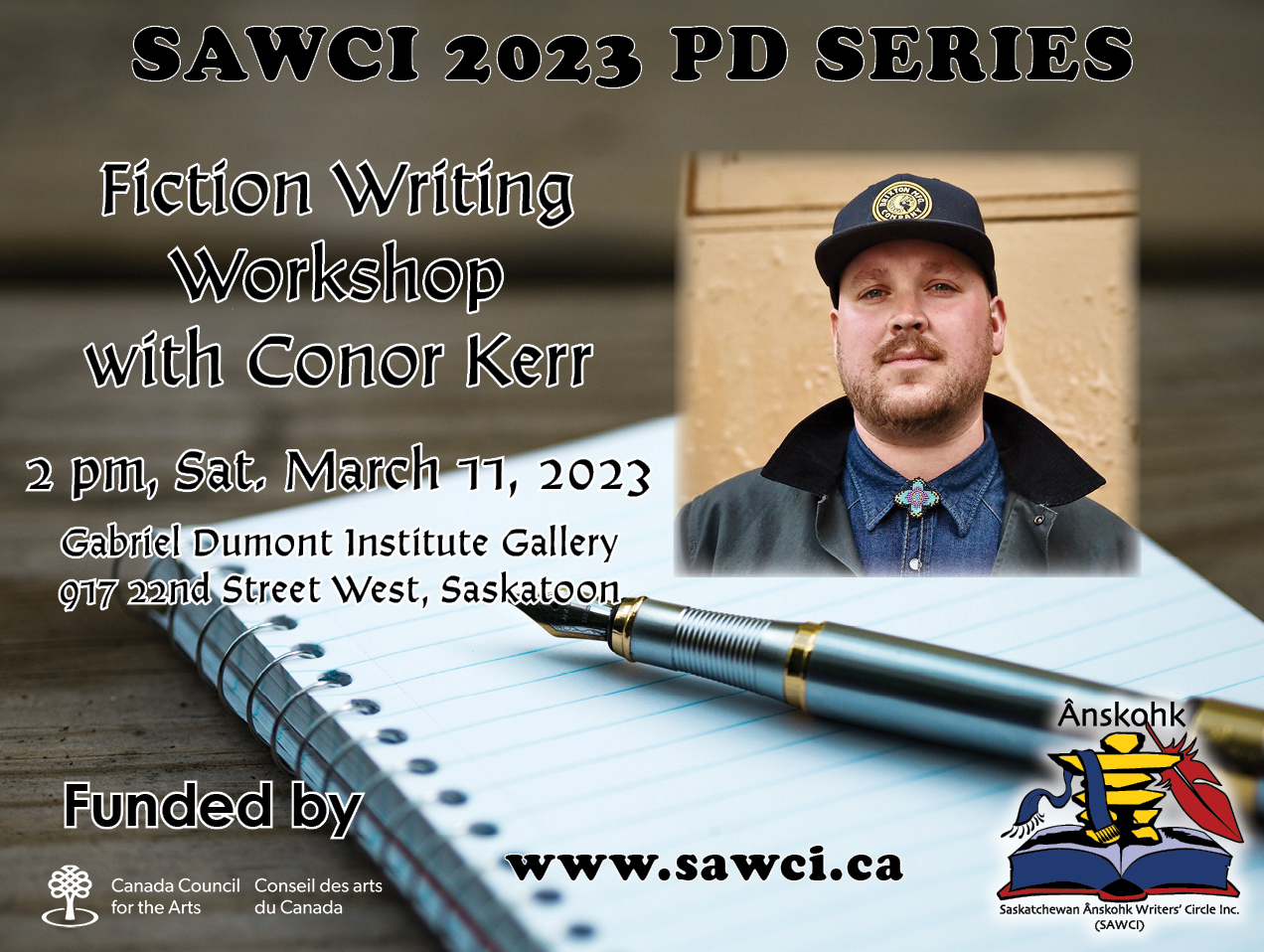 SAWCI has the first of many PD sessions ready to roll for our 2023 PD Series, leading up to Word Splash!
Our first event is Fiction Writing Workshop with Conor Kerr, happening on Saturday, March 11th, 2pm, at the Gabriel Dumont Institute Gallery at 917, 22nd Street West in Saskatoon!
Conor Kerr is a Métis/Ukrainian writer. A member of the Métis Nation of Alberta, he is descended from the Lac Ste. Anne Metis and the Papaschase Cree Nation. His Ukrainian family are settlers in Treaty 4 and 6 territories in Saskatchewan. He grew up in Saskatoon, Edmonton, and other prairie towns and cities but currently calls Vancouver home. In 2022 he was named one of CBC's Writers to Watch. He is the author of the poetry collections An Explosion of Feathers (Bookland Press, 2021) and Old Gods (Nightwood Editions, 2023), as well as the novel Avenue of Champions (Nightwood Editions, 2021), which was shortlisted for the Amazon Canada First Novel Award, longlisted for the 2022 Giller Prize and won the 2022 ReLIT award. He has a forthcoming novel, Prairie Edge, which will be coming out in early 2024.
———————————————————————————————————-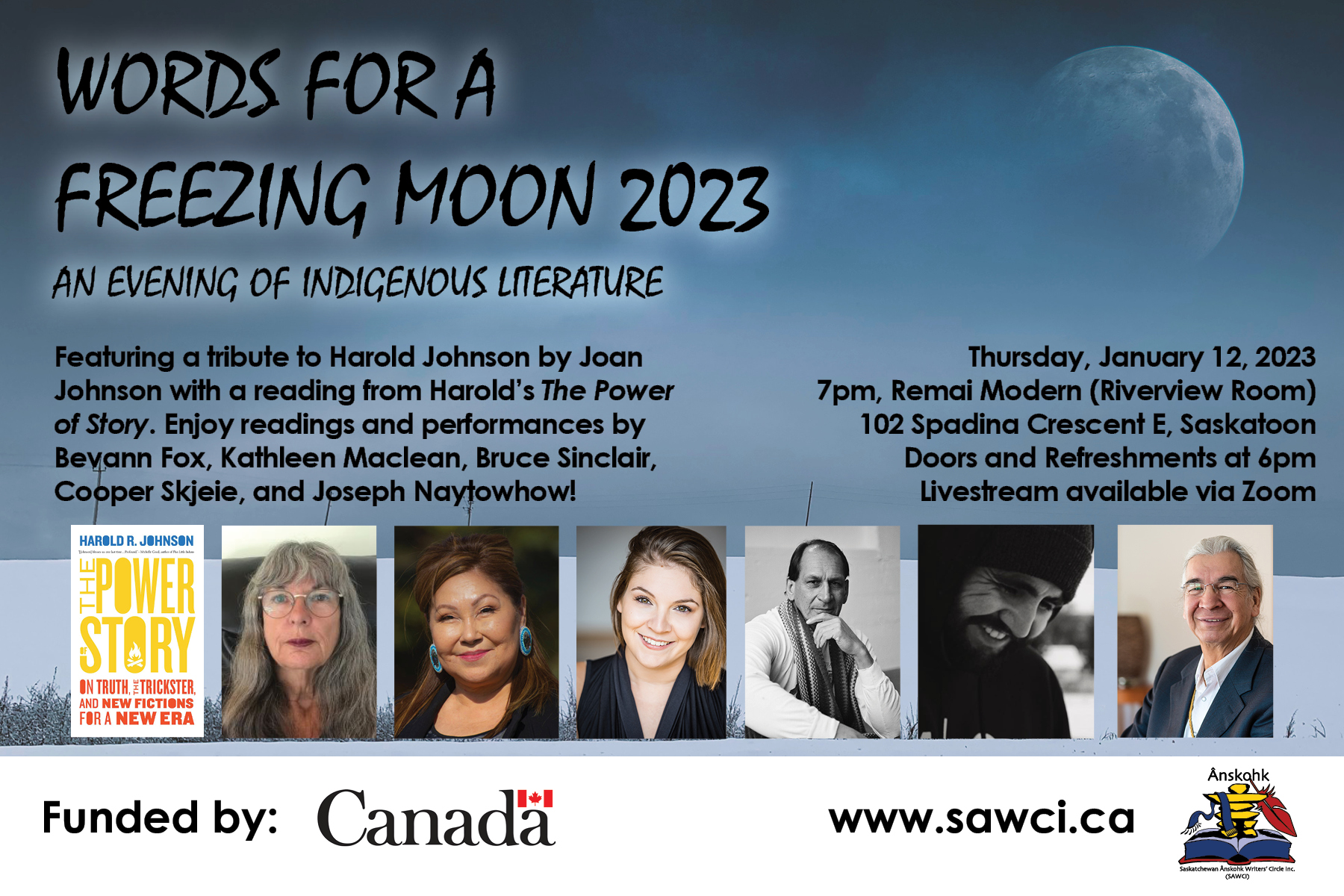 Join us at the Remai Modern on January 12th for an evening of Indigenous literature at Words for a Freezing Moon! Overlooking the South Saskatchewan River, the Remai Modern will provide the perfect view of the Freezing Moon! Let us know you're coming on the Facebook event page! https://www.facebook.com/events/3320453604859317
Featuring a tribute to Harold Johnson by Joan Johnson with a reading from Harold's The Power of Story. Enjoy readings and performances by Bevann Fox, Kathleen Maclean, Bruce Sinclair, Cooper Skjeie, and Joseph Naytowhow!
Thursday, January 12, 2023
7pm, Remai Modern (Riverview Room)
102 Spadina Crescent E, Saskatoon
Doors and Refreshments at 6pm
———————————————————————————————————-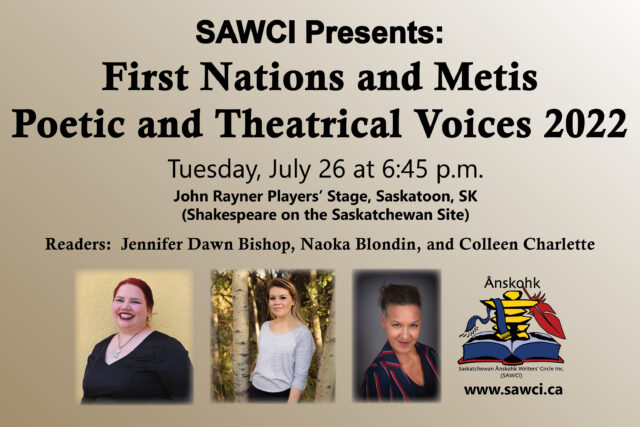 SAWCI Presents:
First Nations and Metis Poetic and Theatrical Voices 2022
Tuesday, July 26 at 6:45 p.m.
John Rayner Players' Stage, Saskatoon, SK
(Shakespeare on the Saskatchewan Site)
Readers: Jennifer Dawn Bishop, Naoka Blondin, and Colleen Charlette
———————————————————————————————————-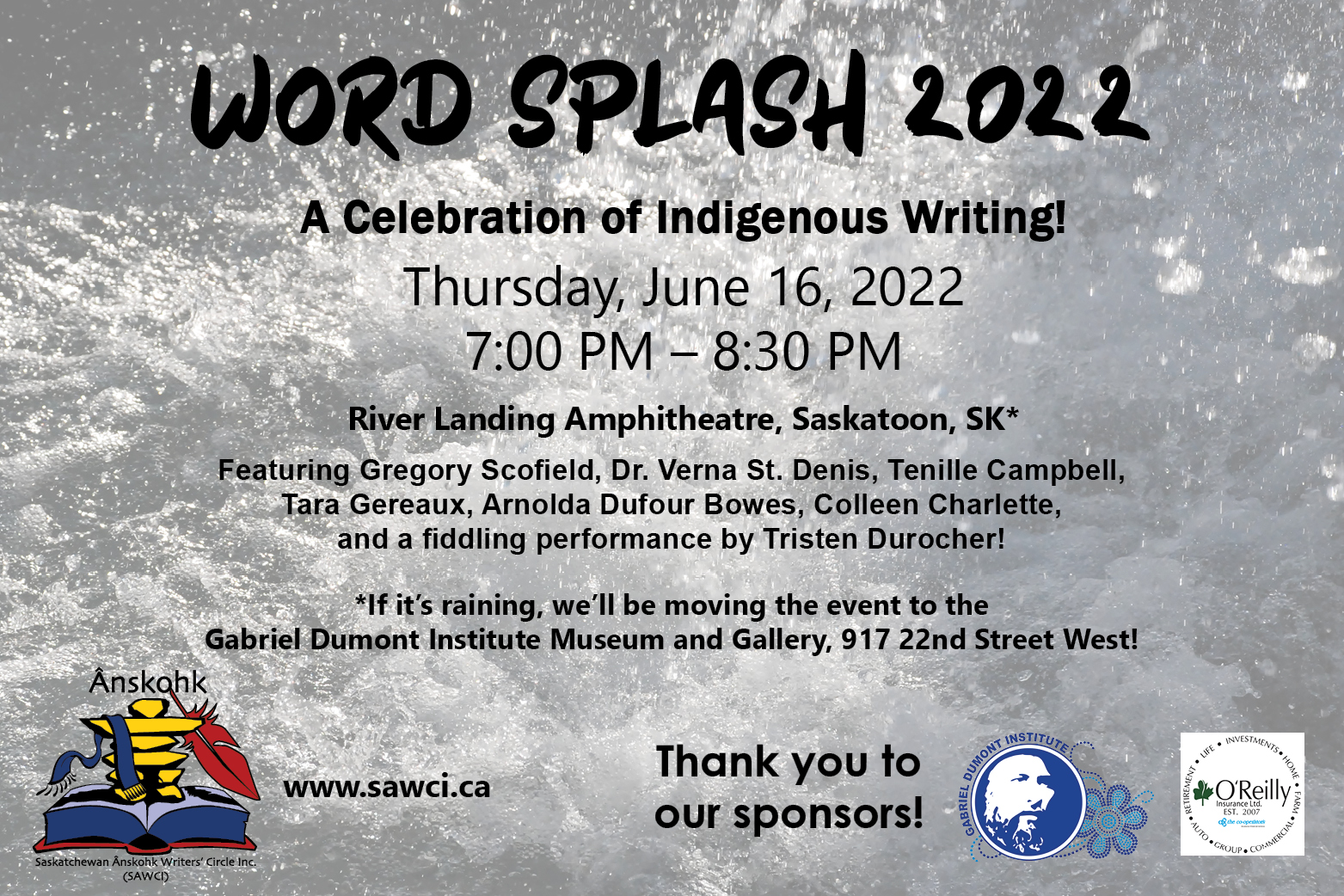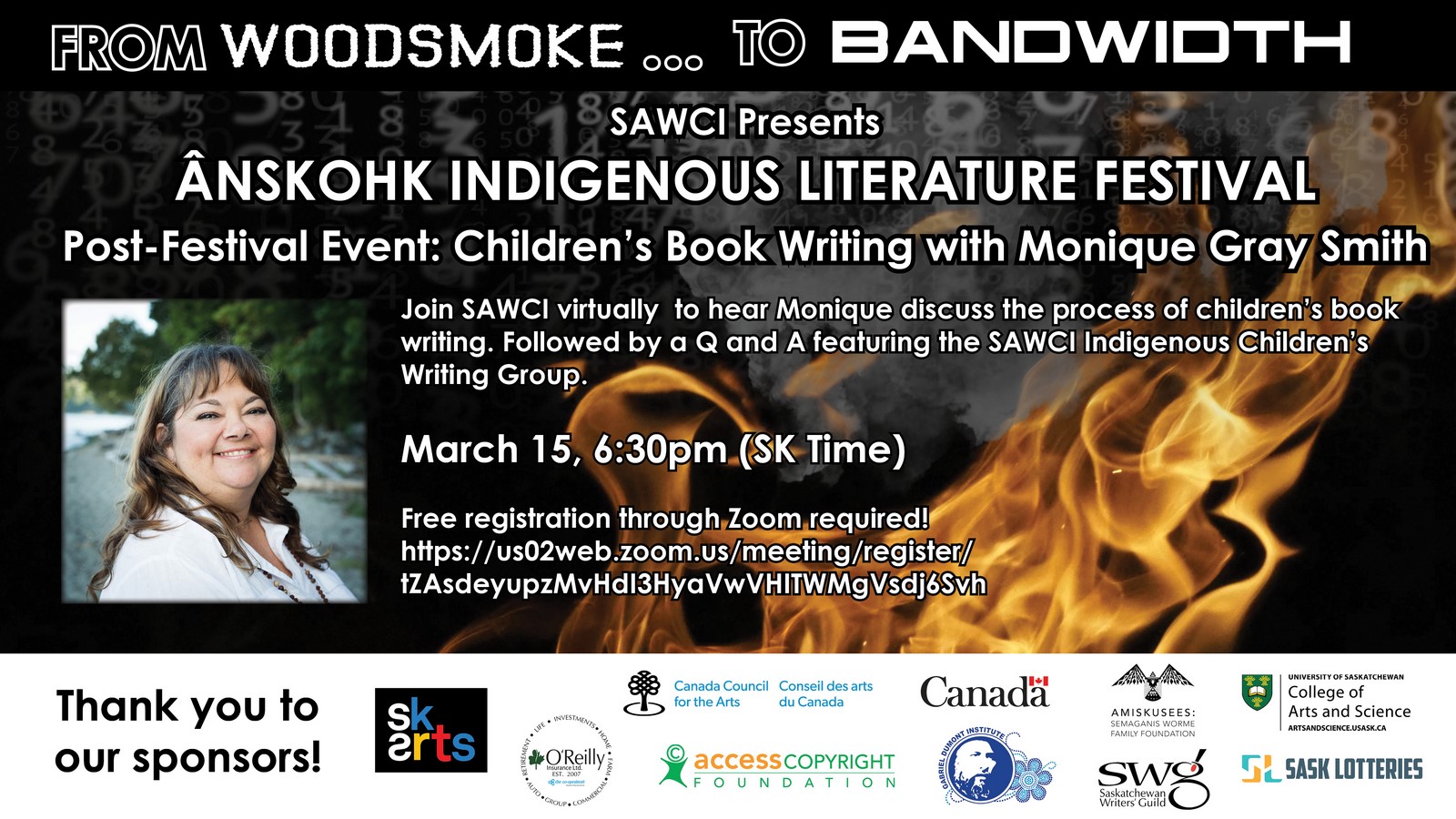 SAWCI is proud to present a virtual post-Anskohk event with Monique Gray Smith on Children's book writing coming up on March 15 at 6:30pm (SK Time).
Monique will be joined by SAWCI's children's book writing circle and will feature a Q&A.
———————————————————————————————————-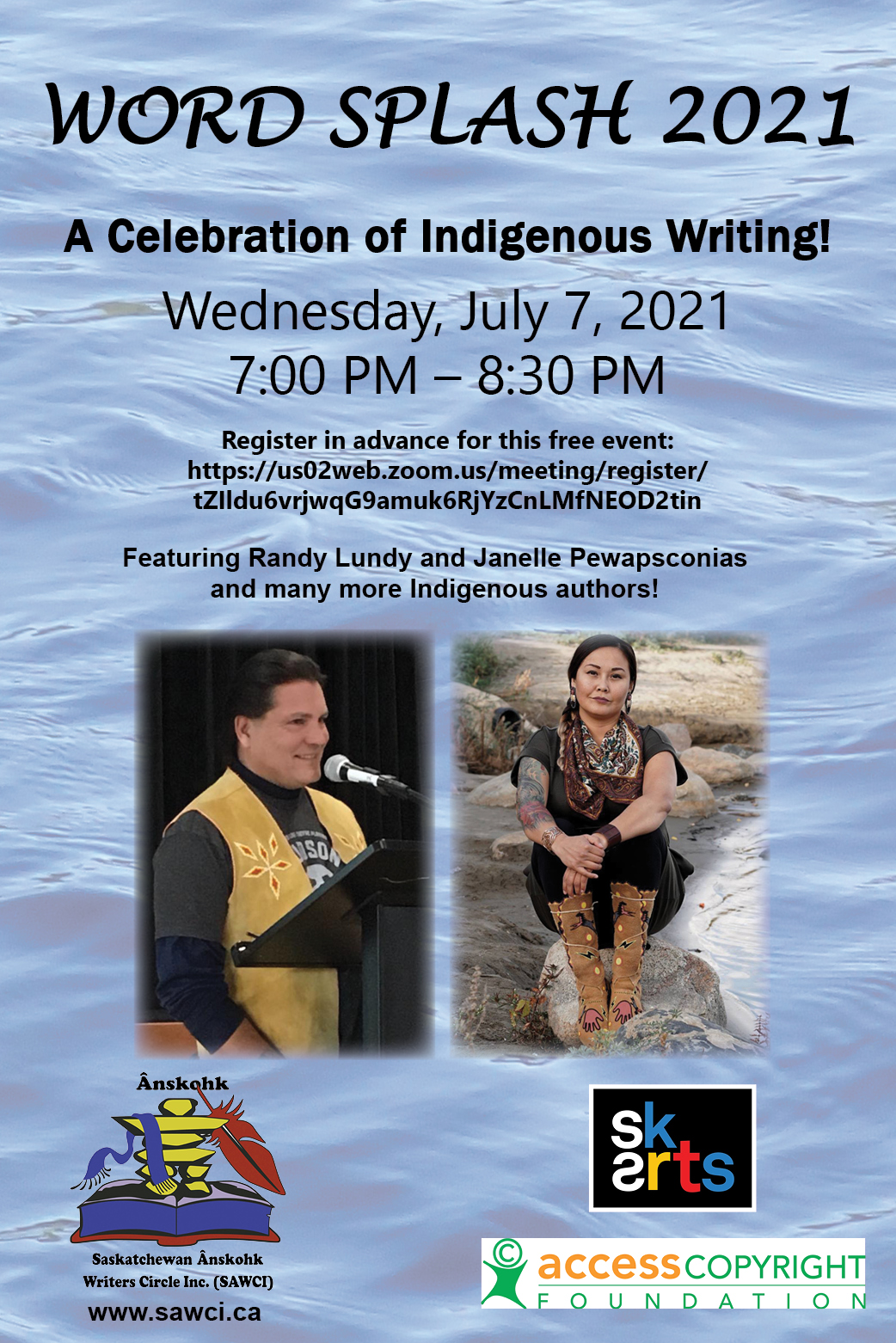 ———————————————————————————————————-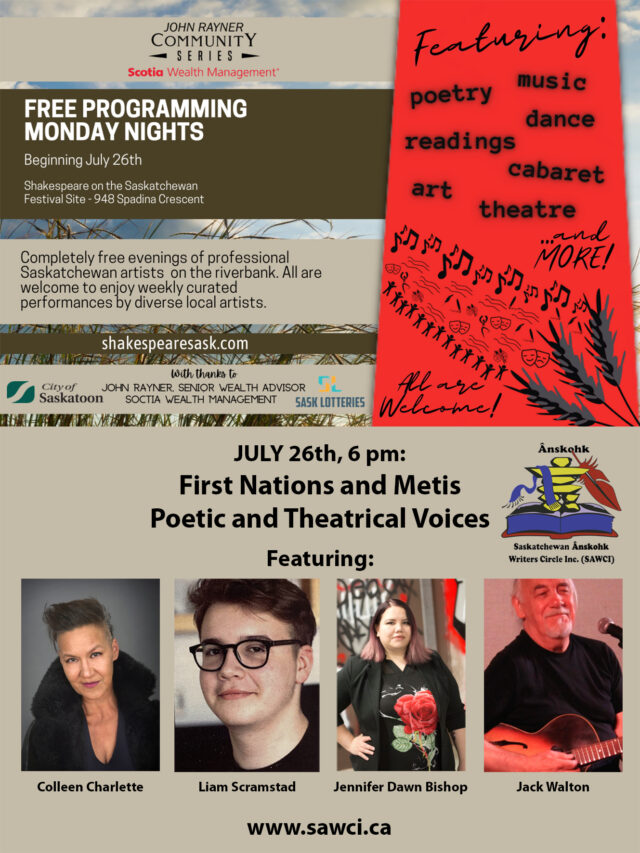 ———————————————————————————————————-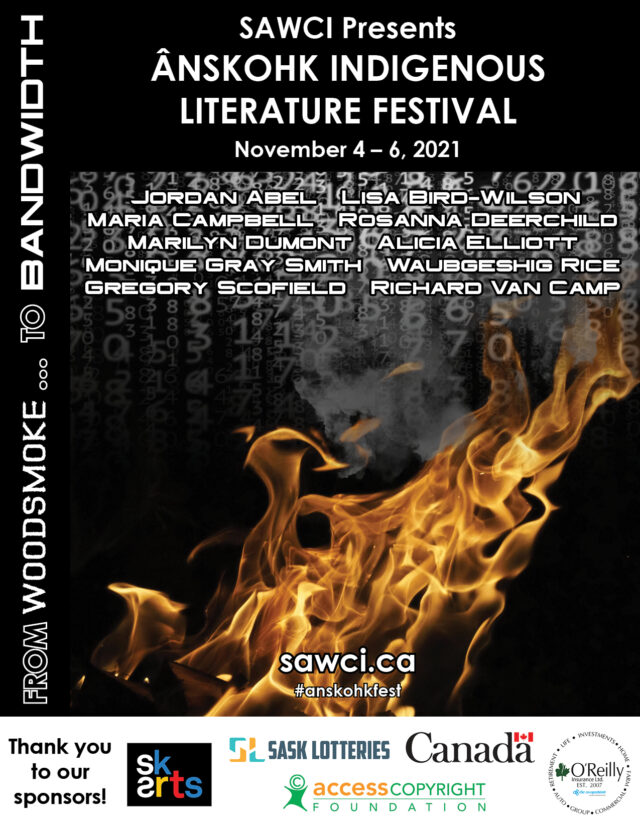 ———————————————————————————————————-
Equinox Poetry Slam
Date: March 19, 2021
Time: 6:00pm CST
Where: Online via Zoom
The Saskatoon Indigenous Poetry Society is hosting the Equinox Poetry Slam virtually on March 19th at 6pm CST! View the Facebook event page for details on how to register for this exciting evening of poetry!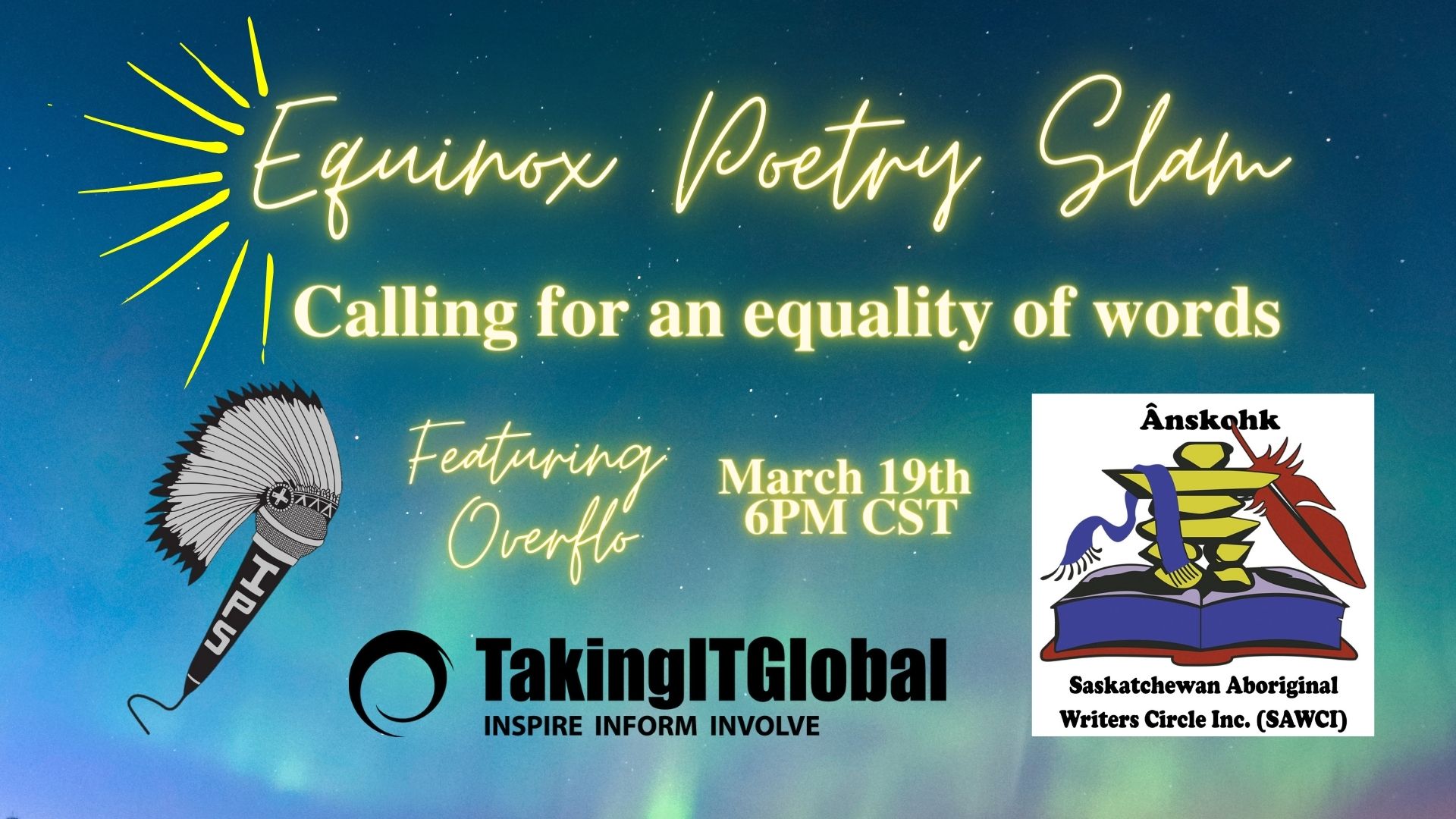 ———————————————————————————————————-
SAWCI 2021 PD SERIES: Virtual Writer-in-Residence
Date: April 15-17, 2021
Time: 7:00pm
Where: Online via Zoom
Facilitators: Janelle "ecoaborijanelle" Pewapsconias and Randy Lundy!
Cost: Free
The latest in the SAWCI PD Series has arrived with a Virtual Writer in Residence program with Janelle "ecoaborijanelle" Pewapsconias and Randy Lundy!
Sponsored by Access Copyright, SAWCI will provide the opportunity for individuals with an interest in poetry and/or spoken word to share and discuss their work with Randy or Janelle in a 30 minute session during April 15-17, 2021.
Interested individuals can submit 5-10 pages of their work and a brief statement about themselves to sawcistaff@gmail.com, and telling us why this opportunity is important to them by MARCH 31, 2021. If you have a preference of working with Randy or Janelle, please let us know, but we can't guarantee who you will be placed with.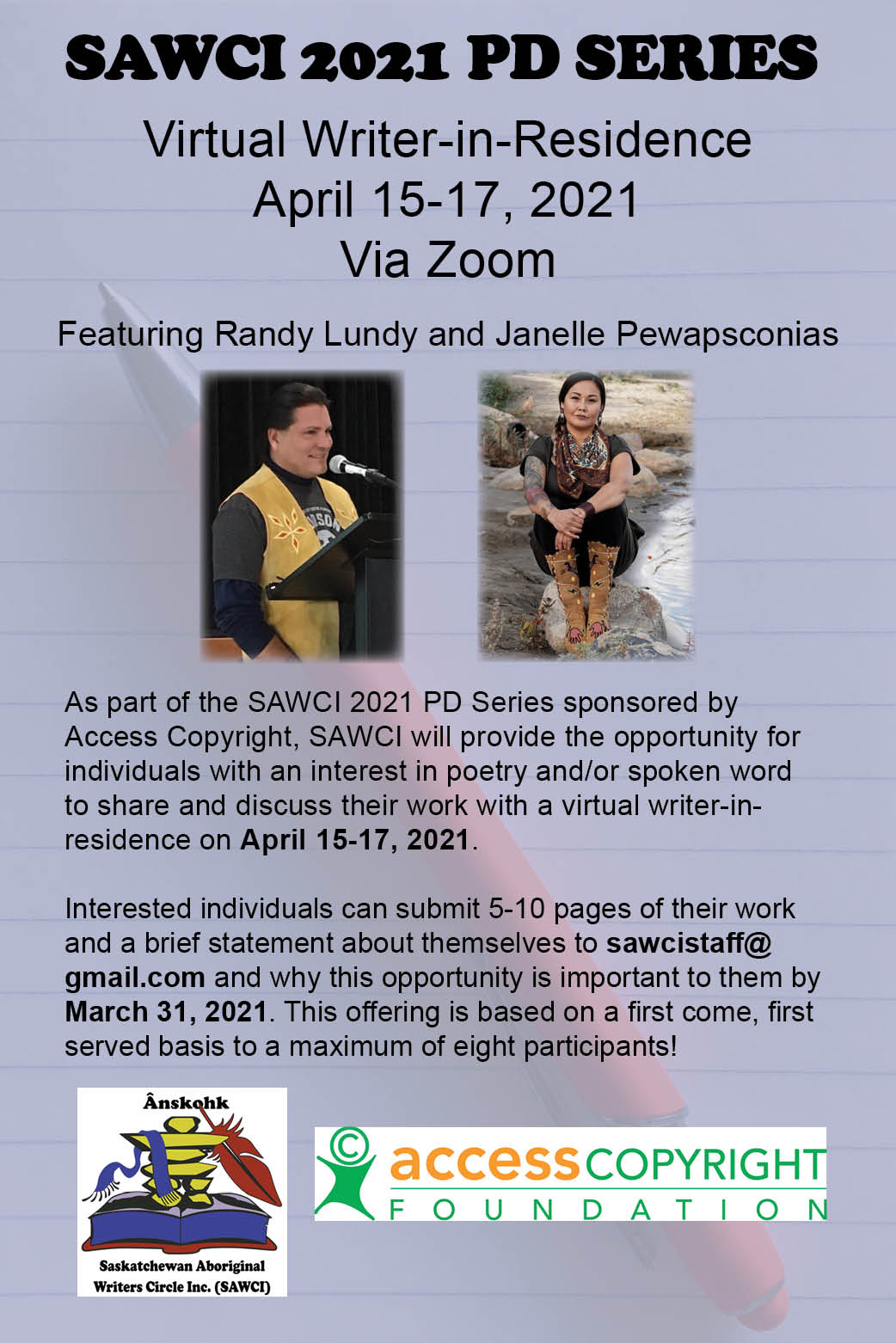 ———————————————————————————————————-
SAWCI 2021 PD SERIES: Peer Editing – Writing Circle
WORKSHOP IS FULL…check back for more opportunities throughout the year!
Date: February 18, 2021
Time: 7:00pm
Where: Online via Zoom
Facilitators: Lisa Bird-Wilson and Rita Bouvier
Cost: Free
Revision being the heart and soul of good writing, the purpose of this circle is to share work-in-progress and receive feedback from other supportive writers.
This is a first come-first serve online event, limited to 7 participants. Individuals interested in participating must register in advance and forward 2 pages of new work to the following email address: sawcistaff@gmail.com, by (February 3, 2021). Copies will be shared with all the participants in advance, so they can be ready to provide feedback at the meeting.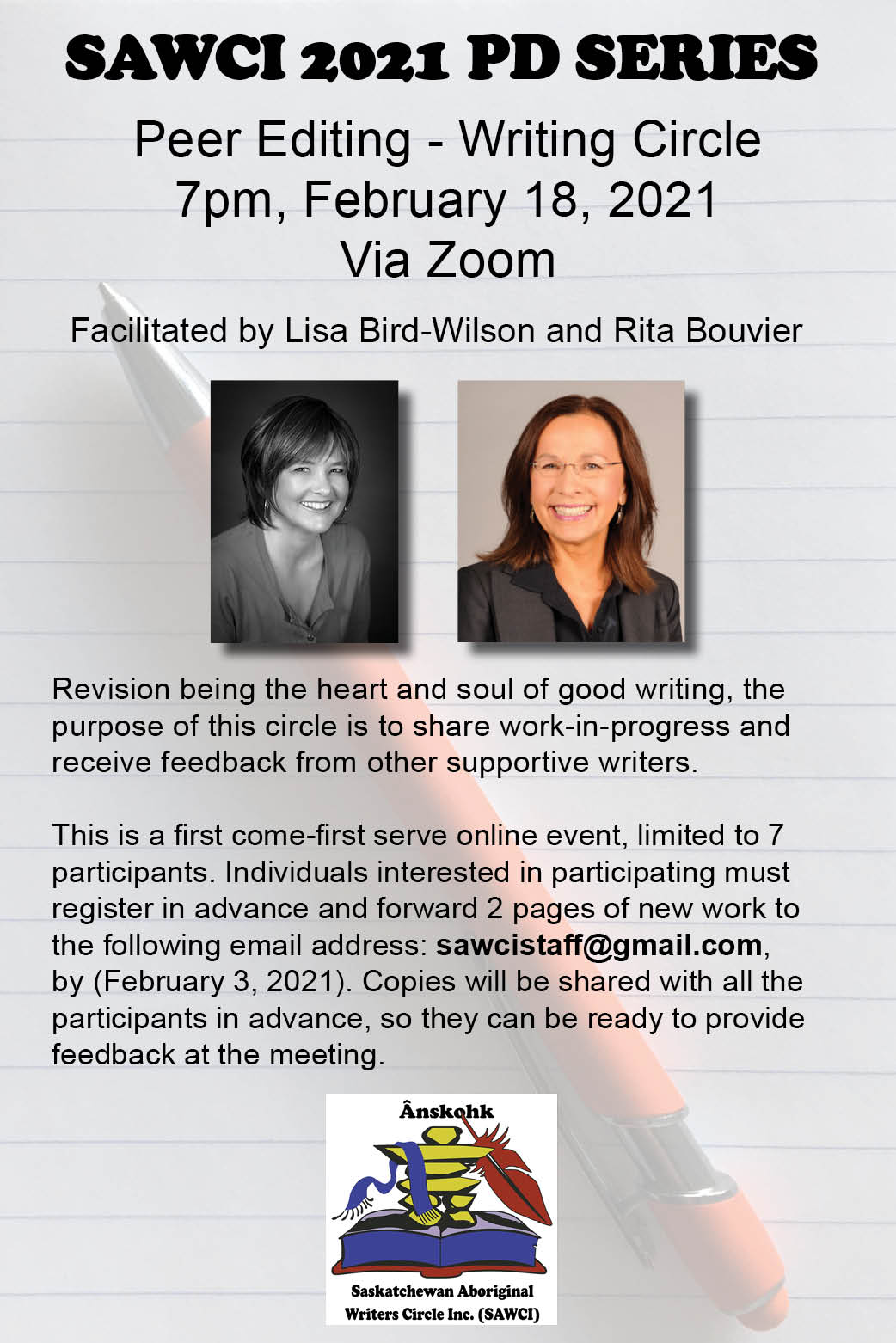 ———————————————————————————————————-
"Lisa Bird-Wilson in Conversation with Jessica Johns"
Date: November 25, 2020
Time: 12:00pm – 1:00pm
Where: Online via Zoom
Cost: Free
Registration: Required through zoom
https://us02web.zoom.us/webinar/register/WN__axrf3VzSaaPAvuHFLr1Dg
In this event, recent winner of the 2020 Journey Prize, Jessica Johns will read her short story "Bad Cree". Following the reading is a conversation with Saskatchewan Métis and nêhiyaw writer, Lisa Bird-Wilson and an audience Q+A.
For more information, contact Debbie Sunchild-Petersen, Indigenous Program Manager at swgip@skwriter.com. 
Funded by SaskLotteries, Canada Council for the Arts, City of Regina
Jessica Johns is a nehiyaw-English-Irish aunty and member of Sucker Creek First Nation in Treaty 8 territory in Northern Alberta. She is the Managing Editor for Room Magazine and a co-organizer of the Indigenous Brilliance reading series. Her debut poetry chapbook, How Not to Spill, co-won the 2019 BP Nichol Chapbook Award, and her short story "Bad Cree" won the 2020 Writers' Trust Journey Prize and won silver at the 2020 National Magazine Awards.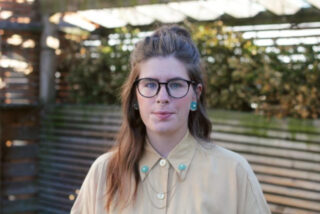 Lisa Bird-Wilson is a Saskatchewan Métis and nêhiyaw writer whose work appears in literary magazines and anthologies across Canada. Her fiction book, Just Pretending (Coteau Books 2013), won four Saskatchewan Book Awards, including 2014 Book of the Year; and was the 2019 One Book, One Province selection. Bird-Wilson's debut poetry collection, The Red Files (Nightwood Editions 2016), is inspired by family and archival sources and reflects on the legacy of the residential school system and the fragmentation of families and histories. She is the current prose editor for Grain magazine. Her new novel, Probably Ruby, will be published by Doubleday Canada in August 2021.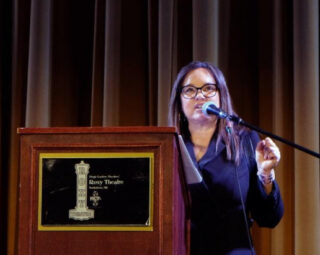 ———————————————————————————————————-
The Saskatchewan Aboriginal Writers Circle Inc. (SAWCI) held our Annual General Meeting at 12:30pm, Saturday, November 7, 2020, hosted virtually via Zoom.
———————————————————————————————————-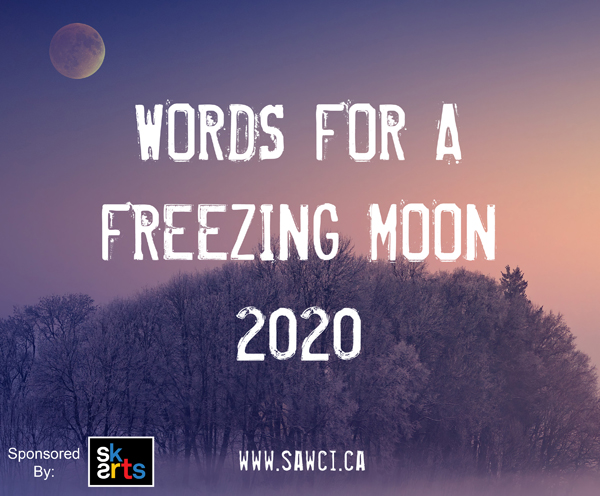 Click the image above to watch Words for a Freezing Moon 2020!
With the world's current climate, SAWCI is bringing Words for a Freezing Moon 2020 to your homes, virtually through Zoom (originally aired live on Nov 7, 2020 at 2:00 PM, SK Time!)
Featured storytellers in the live event included Maria Campbell, Joseph Naytowhow, and Gregory Scofield and includes readings from authors Ashley Hayden, Tara Gereaux, and Karis Oscienny. Musical performances by Teedly Linklater and Joseph Dejarlais. Sponsored by SK Arts.
Readers and Performers:
Maria Campbell: Writer, filmmaker, and playwright Maria Campbell has published seven books, including Halfbreed, which was first published in 1973 and was recently republished to include pages that were pulled (by the publisher) from '73 edition. She is currently working on a new play with Yvette Nolin, Marilyn Poitras, and Cheryl Troupe. This play just performed a public reading in Toronto to a sold- out audience. It will open in Saskatoon in 2020. Maria is the Cultural Advisor at the College of Law, University of Saskatchewan where she also teaches a class on Indigenous Legal Traditions. She has received numerous honors and awards, among them the Gabriel Dumont Order of Merit; a three-year Trudeau Fellowship at the University of Ottawa; and six Honourary Doctorates. She is an officer of the Order of Canada.
Joseph Naytowhow: Joseph Naytowhow is an award winning Plains/Woodland Nehiyaw (Cree) Interdisciplinary artist from the Sturgeon Lake First Nation Band in Saskatchewan. His generosity and compassion for sharing cultural knowledge makes him a much sought after speaker, performer, facilitator, and outdoor educator for adults and children alike locally, regionally and internationally. A longtime resident of Saskatoon, he has been playing music and telling stories, both tall and short, for over 35 years. In addition to his busy schedule of performances, festivals, workshops, and residencies, he has served as a cultural advisor to various institutions such as the Indian Teacher Education Program in Saskatoon, and multiple universities across turtle island. Joseph holds a Bachelor of Education degree from the Indigenous Teacher Education Program (ITEP). He is pleased to share his creative life experience, coyote trickster tendencies, and cultural knowledge when invited to do so.
Gregory Scofield: Gregory Scofield is a Red River Métis of Cree, Scottish, and European descent whose ancestry can be traced to the fur trade and to the Métis community of Kinosota, Manitoba. He is currently an associate professor at the University of Victoria, Department of Writing. He has taught Creative Writing and First Nations and Métis Literature at Brandon University, Emily Carr University of Art + Design, the Alberta University of the Arts, and was most recently an associate professor in the Department
of English at Laurentian University. He has served as writer-in residence at the University of Manitoba, the University of Winnipeg, and Memorial University of Newfoundland. Further to writing and teaching, Gregory is also a skilled bead-worker, and he creates in the medium of traditional Métis arts. He continues to assemble a collection of mid- to late 19th century Cree-Métis artifacts, which are used as learning and teaching pieces.
Ashley Hayden: Ashley Hayden is a Metis writer from Treaty 4 Territory and the traditional homeland of the Metis. She is a graduate of Regina's Saskatchewan Urban Native Teacher Education Program and is currently working on her MFA in Creative Writing at the U of R. She has been employed with GDI Regina for over 8 years and is very passionate about helping Metis people reach their education goals. She is the author of the young adult novel, You Can't Make Me (High Interest Publishing) and is currently working on a collection of poems and short stories loosely based on her experiences growing up Metis and what the implications of that are in a colonial landscape. Her inspirations come from her experiences as a mother, a love for her culture and family, and an affinity for the country greats like Waylon, Hank, and Patsy.
Tara Gereaux Tara Gereaux's first book, Size of a Fist (Thistledown Press) was nominated for two 2016 Saskatchewan Book Awards. Her writing has been published in several literary magazines and has won awards, including the City of Regina Writing Award in 2016 and 2019. After graduating from the University of British Columbia's MFA creative writing program, Tara worked as a story editor and writer in film and television for ten years. From the Qu'Appelle Valley in Saskatchewan and of Métis and European heritage, Tara lived in Vancouver for nearly two decades before returning to her home on the prairie. Her first novel, Saltus, is forthcoming from Nightwood Editions in spring 2021.
Karis Oscienny: Karis Oscienny is a grade eleven student who started writing when she was nine years old. Her stories often contain fantastical or futuristic elements, and feature themes of mental health and self-acceptance. She's a member of a local writing group, mentored by Miriam Korner, that has been meeting bi-weekly since 2018, and was the first visually impaired participant in the Sage Hill Youth Writing Experience in July 2020.
Joseph Desjarlais: My name is Joseph Desjarlais and I am from the northern Métis community of Ile-a-la Crosse. I have graduated from Grade 12 as of June 28th, 2019 and I have since then completed my first year of University in a Bachelor of Arts & Science program. I try my best to volunteer for as many activities as I can. Usually, the events that I volunteer for tend to be food sales intended to help out a sports team or a school event, but occasionally I volunteer to help with events within the community. In everything that I do, I give my utmost to create the best outcome possible. I also am a practiced and accomplished fiddle player, having been playing fiddle for 8 years, I play for lots of events within Saskatchewan. In my spare time, I go to the Rossignol Elementary School in Ile-a-la-Crosse and assist the younger fiddlers, in both mastering the instrument and in learning new tunes. I also participate in and lead traditional events, from making traditional foods to gathering wild plants. My plan for the following decade is to become a biomedical neuroscientist. To help find and fix problems with the brain and to research new cures for mental ailments. It's taken me a while but eventually, I've pieced together a career that I didn't realize I was so interested in until I learned about it. Personally I've achieved quite a fair bit, from getting Student of the Year consecutively to going to provincial competitions for cross-country running and mobile robotics. For all of my high school years, I've gotten the vast majority of the highest academic student achievements for all of my classes, a testament to my steadfast devotion to my studies.
Teedly Linklater: Teedly Teresa Mariea Linklater is a proud member of Couchiching as well as Thunderchild First Nation. She is a proud mother and grandmother to a blended family. She enjoys singing and drumming for the community and has been in many events performing, leading rallies and participating in ceremonies. She is co-host on the Indigenous radio show and performs for Wanuskewin. She learns both the nehiyawak and Anishinaabemowin lanaguage and also knows a bit of sign language. She also enjoys walking and biking. She also is a traditional singer and dance woman's traditional and a new old style jingle dress dancer. She also performs in a contemporary band called The Rebels. As well as sewing and making dolls with her mother. It's important that she lives a alcohol, drug and tobacco free lifestyle. Be kind, love each other and try live a good life is what she lives by.
Robert Alexander Innes is a member of Cowessess First Nation in Treaty 4 Territory. As a Faculty Member and Associate Professor in Indigenous Studies at the University of Saskatchewan, his research areas include First Nations history, especially in Treaty 4 territory; First Nations-Métis relations; contemporary kinship practices; and Indigenous masculinities. Phd Arizona (2007) M.A. Saskatchewan (2000) B.A. Toronto (1996).
Colleen Charlette is a member of the Peter Ballantyne Cree Nation. She was born and raised in Flin Flon, Manitoba. Colleen has been a board member of the Saskatchewan Aboriginal Writers' Circle Incorporated for eight years. After the career directions of administrative assistant and fashion designer, Colleen's pursuit of creative occupation led her to poetry. Colleen resides in Saskatoon.
---
———————————————————————————————————-
On August 28th at 7pm as SAWCI presented a virtual launch of the chapbook "i am what becomes of broken branch," created in partnership with the League of Canadian Poets (LCP). Edited by Rita Bouvier, this chapbook showcases the voices, community, and poetic writing of Indigenous writers in Saskatchewan, and of poets across Canada. It celebrates Indigenous writers including Cooper Skjeie, Carol Casey, Kirk Bueckert, Colleen Charlette, and Michelle Poirier Brown. We are happy to have all the poets sharing their poems with us in their own voices!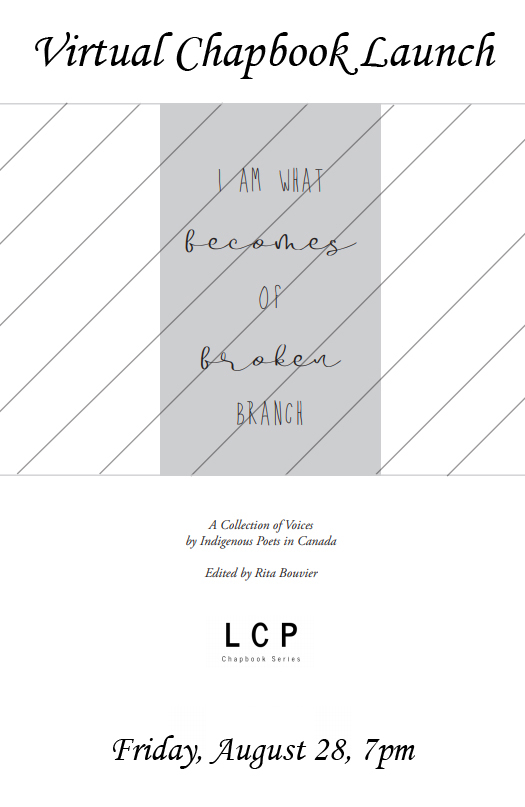 ———————————————————————————————————-
Teachings By Harold Johnson – Episode 3: A Story about Stories
Learn about writing from the mind of Harold Johnson. In the third episode, Harold talks about when to tell a story, and when to not…
Thank you to our sponsor, Access Copyright Foundation
(Premiered August 21, 2020)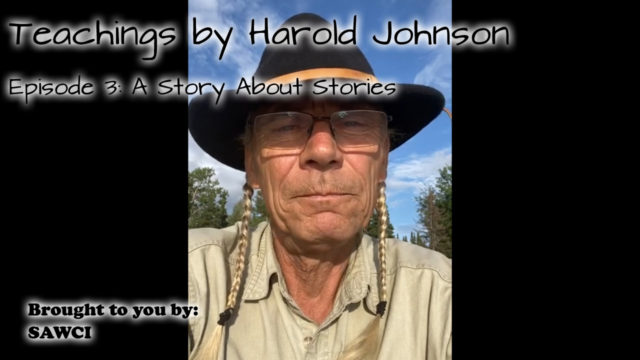 ———————————————————————————————————-
Teachings By Harold Johnson – Episode 2: The Power of Story
Learn about writing from the mind of Harold Johnson. In the second episode, Harold talks about the power of story and words.
Thank you to our sponsor, Access Copyright Foundation
(Premiered August 14, 2020)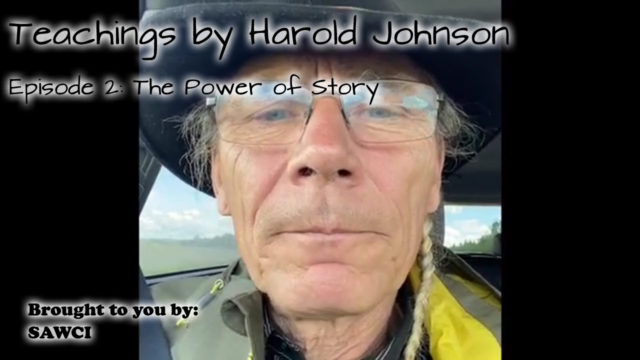 ———————————————————————————————————-
Teachings By Harold Johnson – Episode 1: Be a Writer
Learn about writing from the mind of Harold Johnson. In this first episode, Harold gives practical tips about how to be a writer.
Thank you to our sponsor, Access Copyright Foundation
(Premiered August 7, 2020)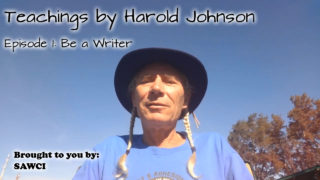 ———————————————————————————————————-
SAWCI is proud to premiere Fire Poem Workshop with Leah Dorion Thursday, July 30, 2020 at 7pm! Gather some firewood (or a candle), a comfortable chair, your favourite writing tools, and sit back, watching the fire crackle. Gain some inspirational ideas from Leah as she leads you through various writing prompts, exercises, and activities to get the creative juices flowing during this 18 minute workshop. Thank you to our sponsor, Access Copyright Foundation for making this video possible!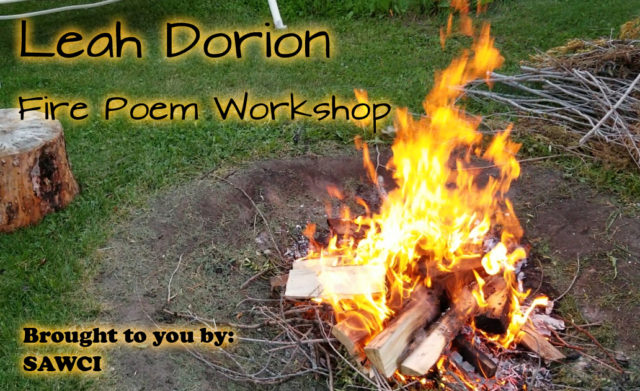 ———————————————————————————————————-
Click on images below for details and times.

Word Splash 2020 is online and has been collaboratively organized by SAWCI and ALECC (Association for Literature, Environment, and Culture in Canada). This zoom event will feature readings by Randy Lundy, Rita Bouvier, Mika LaFond, Jessica Johns, Cooper Skjeie, fiddling by Tristen Durocher, jigging by Courtney Anaquod, and host and emcee Rob Innes.
Wordsplash 2020 will take place July 11 4:30-6:00 pm.
Register here: https://www.eventbrite.com/e/word-splash-2020-watershed-tickets-110328796400
If you'd wish to attend the full ALECC conference, register here: http://conferences.usask.ca/alecc2020
Readers and Performers:
Courtney-Dawn Anaquod Hails from Muscowpetung saulteaux First Nation
(Fort Qu'Appelle) and currently resides in Saskatoon. Renowned Saskatchewan's Jigging champion, Youth Mentor and Jigging Instructor founder of the Qu'Appelle Valley Dancers. She is the Grandaughter of the late Fiddling champion Morris Anaquod and Jigging champion Theresa Anaquod, and the great-granddaughter of the late Joe Amyotte. Courtney is self-taught Jigger and Inspiration comes from her Grandparents and continues to carry on the Anaquod legacy sharing her talents with the youth across Saskatchewan and northern Saskatchewan.
Rita Bouvier, a semi-retired Metis educator, is author of three collections of poetry. nakomowin'sa for the seasons (Thistledown Press, 2015) was the 2016 Sask Book Awards winner of the Rasmussen, Rasmussen & Charowsky Aboriginal Peoples' Writing Award. Rita's poetry has appeared as a children's book, in literary anthologies, musical and television productions, and has been translated into Spanish, German and Cree-Michif of her home community. Home is sakitawak—Île-à-la-Crosse, Saskatchewan, situated on the historic trading and meeting grounds of the Cree and Dene people living in the region.
John Arcand is originally from the Debden – Big River area of Saskatchewan. John now makes his home on acreage southwest of Saskatoon. He started playing fiddle at the age six, with coaching from his Father and Grandfather and by age twelve he was playing for dances. His impeccable sense of timing and flowing rhythm came from learning to watch the dancers feet at this early age and from this he developed and refined a style of playing that has helped him become a legend in the fiddle world. People often referred to him as the "dancer's choice" throughout his long career. John has made seventeen recordings throughout his career; featuring his original compositions, the traditional Métis tunes of his Father and Grandfather, and those he researched and learned. He is also a prolific writer having composed over 490 original tunes to date.
Robert Alexander Innes is a member of Cowessess First Nation in Treaty 4 Territory. As a Faculty Member and Associate Professor in Indigenous Studies at the University of Saskatchewan, his research areas include First Nations history, especially in Treaty 4 territory; First Nations-Métis relations; contemporary kinship practices; and Indigenous masculinities. Phd Arizona (2007) M.A. Saskatchewan (2000) B.A. Toronto (1996).
Randy Lundy is of Cree, Irish and Norwegian descent. He is a member of the Barren Lands (Cree) First Nation, Brochet, Manitoba, Canada.
He was born in the mining community of Thompson, Manitoba, and after a brief time living in Quesnel, in the Cariboo District of British Columbia, he was raised in and near the small logging community of Hudson Bay, Saskatchewan. For most of his time growing up in Hudson Bay, he lived a short walk from the confluence of the Fir, Etamomi, and Red Deer Rivers.
Randy attended university in Saskatoon, where he completed a B.A. (Hons.) and an M.A. in English at the University of Saskatchewan. He studied religion, philosophy, and literature, eventually focusing his studies on Indigenous literatures and completing a thesis on the plays of Tomson Highway, also from the Barren Lands (Cree) First Nation.
He began a teaching career first as a Graduate Teaching Assistant at the U of S and later as a Sessional Lecturer at what was then known as the Saskatchewan Indian Federated College, also in Saskatoon. In 1999 he moved to Regina, Saskatchewan, to take a position as the first-ever Canada Council-funded writer-in-residence at the SIFC, Regina Campus. After the residency, he began a teaching position at the SIFC, which became the First Nations University of Canada in 2003. He achieved a tenured appointment in 2005 and served as Head of the Department of English from 2005 until 2010. He later served as the first Indigenous faculty member in the Department of English at the Jesuit-run Campion College, at University of Regina, from 2014-2017.
Randy has published three books of poetry, Under the Night Sun (1999), Gift of the Hawk (2004), and Blackbird Song (2018), in addition to publishing individual works of short fiction, literary non-fiction, and academic essays.
Blackbird Song received advanced praise from literary giants both north and south of the 49th parallel, including Lorna Crozier, Jane Hirshfield, Linda Hogan, Patrick Lane, Don McKay, and Simon Ortiz. Also, he has worked with editors who are themselves nationally- and internationally celebrated authors, including poet Patrick Lane, Delaware poet and playwright Daniel David Moses, novelist and non-fiction writer David Adams Richards, and, most recently, poet and philosopher Jan Zwicky.
His poetry has been widely anthologized, in Canada and abroad, including in the seminal texts Native Poetry in Canada: A Contemporary Anthology (Broadview) and An Anthology of Canadian Native Literature in English (Oxford UP).
Jessica Johns is a Nehiyaw-English-Irish aunty and member of Sucker Creek First Nation in Treaty 8 territory in Northern Alberta. She is the Managing Editor for Room Magazine and a co-organizer of the Indigenous Brilliance reading series. Her short story, "The Bull of the Cromdale," was nominated for a 2019 National Magazine Award, her debut poetry chapbook, How Not to Spill, won the 2019 BP Nichol Chapbook Award, and her short story "Bad Cree" won silver at the 2020 National Magazine Awards.
Mika Lafond is a member of Muskeg Lake Cree Nation. In 2017, she published her first book of poetry, nipê wânîn, which was also her full-length thesis project for the MFA Writing Program. She has had poems published in the Malahat Review, kimiwan zine, and three anthologies: Release Any Words Stuck Inside of You: Untethered Anthology of Shorts, kisiskâciwan: Indigenous Voices from Where the River Flows Swiftly, and Three Sisters Soup for the Spirit. In 2019 she worked with the Saskatoon Public School Division's Indigenous Ensemble on production of her first play "otâcimow". Her first fiction story was published in Grain Magazine in 2019. Mika currently teaches classes at the Indian Teacher Education Program.
Cooper Skjeie (/sh-ay/) is a Métis-Germanic educator, curriculum developer, and MFA in Writing candidate from Treaty 6 and Métis Territory. An alumnus of the Banff Centre's Emerging Writers Intensive, he was longlisted for the 2019 Pacific Spirit Poetry Prize, and his work appears in Grain Magazine, PRISM International, The Mamawi Project Zine, and the LCP Chapbook Series. He lives in Saskatoon.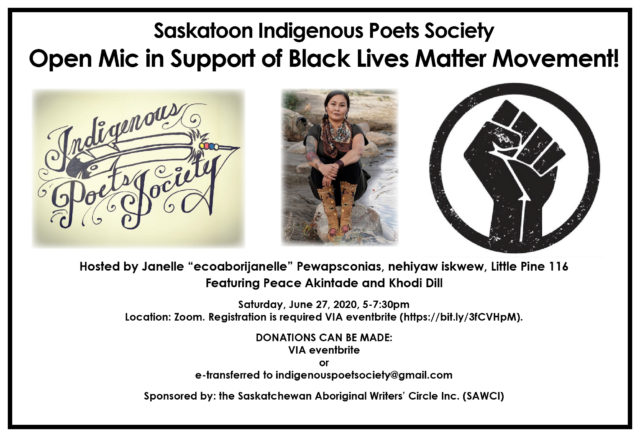 Saskatoon Indigenous Poets Society presents an online open mic performance with TWO features: Peace Akintade and Khodi Dill in support of Black Lives Matter movement! Join us via Zoom and we are accepting donations through the Eventbrite registration link; all proceeds will go towards BLM.
Proudly sponsored by SAWCI
———————
DETAILS:
Date: Saturday, June 27, 2020
Time: 5-7:30pm
Location: Zoom. Registration is required.
DONATIONS CAN BE MADE:
VIA eventbrite (https://bit.ly/3fCVHpM) or e-transferred to indigenouspoetsociety (at) gmail (dot) com
_____
ACCESSIBILITY:
• A computer, smart device or laptop with audio/video capabilities
• internet access
• zoom app
Registration is free. Zoom access will be emailed after registration.
_____________
SAFE(R) SPACE POLICY:
As a collective of Indigenous spoken word artists, we work to hold a safe and creative space for poets to express themselves, free from judgment and harassment and space for our community to feel empowered with storytelling and spoken word art.
We will move forward together in a good way and with respect to Indigenous teachings and protocols that we adhere to and respect. In all aspects of Indigenous Worldview and Natural Law, we will do our best to reflect those teachings and create a safer space.
In solidarity,
Saskatoon Indigenous Poet Society Organizing Team

Billy-Ray Belcourt

Billy-Ray Belcourt is from the Driftpile Cree Nation. He is a PhD candidate and 2018 PE Trudeau Foundation Scholar in the Dept. of English & Film Studies at the University of Alberta. His books are THIS WOUND IS A WORLD (Frontenac, 2017), winner of the 2018 Griffin Poetry Prize, NDN COPING MECHANISMS: NOTES FROM THE FIELD (House of Anansi, Sept. 2019), and the forthcoming A HISTORY OF MY BRIEF BODY (Hamish Hamilton, May 2020).

photo is by Tenille Campbell:

Joshua Whitehead

Joshua Whitehead is a Two-Spirit/ Oji-Cree/nehiyaw member of Peguis First Nation (Treaty 1) in Manitowapow. He is currently a doctoral student at the University of Calgary where he focuses on Indigenous Literatures and Cultures in the English Department. Joshua is the author of full-metal indigiqueer (Talonbooks) and Jonny Appleseed (Arsenal Pulp Press).

Joshua has been nominated for the Scotiabank Giller Prize, the Dayne Ogilvie Prize for LGBTQ Emerging Writers Prize, the Governor General's Literary Award and was selected for the 2019 RBC Taylor Prize mentorship program. Joshua is currently working on his third book, Making Love to the Land – a hybrid form of nehiyaw storytelling that includes poetry, fiction, and personal essay on ways of reading the land from a queer Indigenous perspective, forthcoming from Knopf Canada.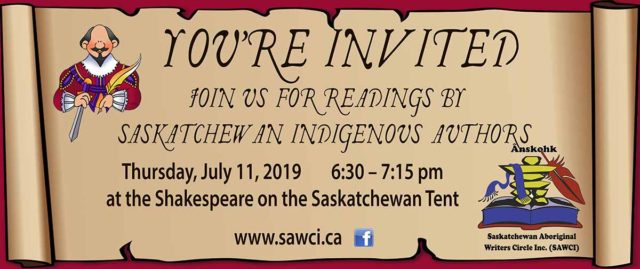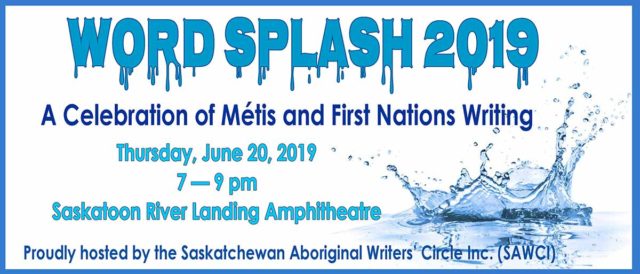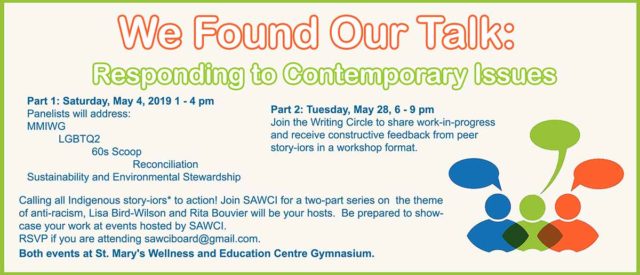 ---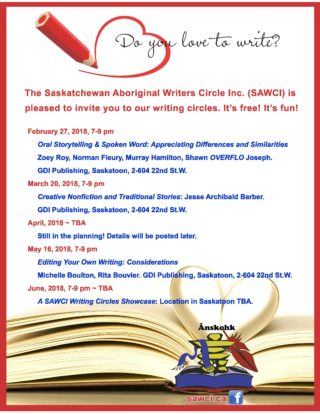 ---

---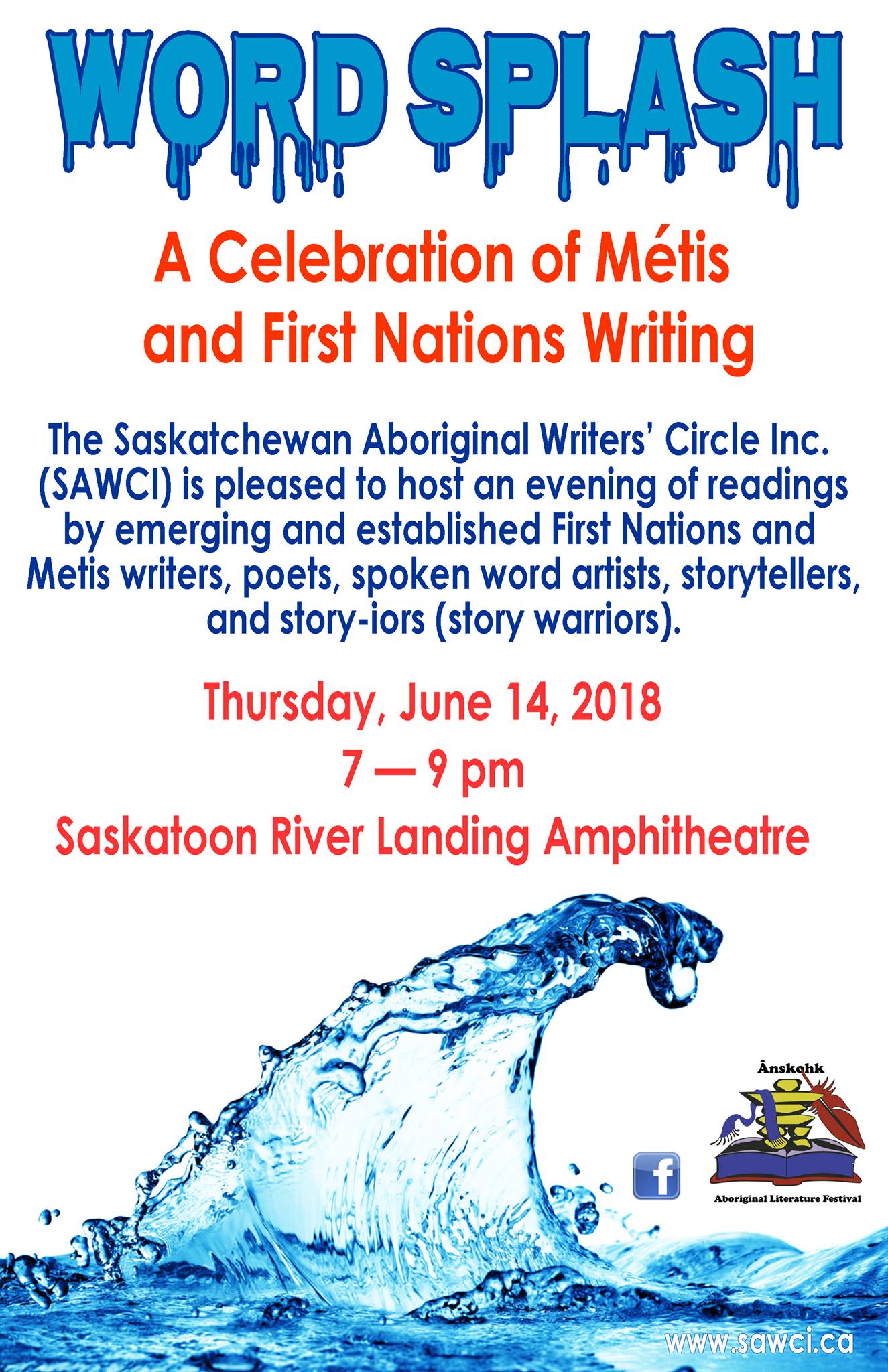 ---
Editing your own Writing: Considerations
May 16, 2018
If you love to write and would like to take it up a notch, join veteran editors Rita Bouvier and Michelle Boulton who will take you through the editing steps that will help you hone, trim, and refine your writing to get it ready for publication.
Join us Wednesday, May 16th, 7-9 pm at Gabriel Dumont Institute Publishing in Saskatoon, #2 – 604 22nd Street West.
See details below.
---
Saskatoon Writing Circles
March 20, 2018
April, 2018 (date to be announced)
May 16, 2018
June 19, 2018
See details below.
---
Creative Nonfiction and Traditional Stories Workshop
March 20, 2018
Gabriel Dumont Institute
Saskatoon, SK
Event Gallery – Do not remove this